COSTA RICA: 15 Day Birding and Photography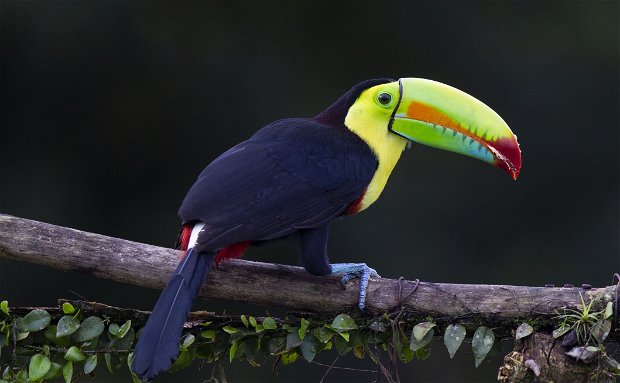 Costa Rica is well known as a bird watcher's paradise and with good cause. Connecting south and north America, it is home to a striking variety of tropical birds. 922 species have been identified in this tiny country, more than the United States and Canada combined! Costa Rica hosts 12 of the planet's 18 different life zones, providing a huge range of climates. Volcanoes and rolling hills of the country and different altitudes just add to the species variety. Toucans, hummingbirds, macaws, motmots, tanagers and the beautiful Resplendent Quetzal and cryptic marked Sunbittern. From the dry tropics to the humid lowlands of the Caribbean Coast, the incredible array of habitats and micro-systems creates nearly endless bird watching opportunities in Costa Rica.
Activities and parks included: Tarcoles Boat Safari, Carara National Park, Bogarin bird feeders, Sky Hanging Bridges, Caño Negro Boat safari, Medio Queso Boat Safari, Resplendent Quetzal Photography hide in highlands of Costa Rica, Tapir Valley Reserve for Snowcap, Batsu Outdoor Photo Studio in Savegre Valley
Daily Itinerary next to gallery, click to expand

Gallery
Itinerary
Click on each day to see an expanded day by day itinerary
Day 1: Arrival
You will be welcomed at the airport by your guide and driver for your transfer to your hotel. In the afternoon, depending on time of arrival, we can do a birding walk in the gardens of the hotel.
Day 2-3: Northern Rainforest

We should reach our next destination for lunch, and this is in the birding-famous Laguna del Lagarto Lodge. While eating lunch, we may get views of Keel-billed Toucan, Yellow-throated Toucan, Collared Aracari, Orange-chinned Parakeet, Brown-hooded Parrot and White-crowned Parrot, quite common at the deck of the restaurant. Photo opportunities are good.
We will spend the afternoon in the gardens of the hotel, where we have an excellent chance to see King Vulture, Olive-throated Parakeet, Blue-chested Hummingbird, Semiplumbeous Hawk, Central American Pygmy-Owl, Slaty-tailed Trogon and Black-throated Trogon. The fruit feeders at this lodge are possibly the best designed in the country as they are located way above ground and attract a wide variety of birds from the canopy of the forest like Collared Aracari, Yellow-throated Toucan, Keel-billed Toucan, Chestnut-colored Woodpecker, Brown-hooded Parrot, Black-cowled Oriole, Olive-backed Euphonia among others. Even rarities like Tiny Hawk and Gray-bellied Hawk have been recorded from the lodge restaurant.
This hotel grounds offer perhaps the most exciting birding on the Caribbean slope and recently proved to be the only reliable location for Tawny-faced Quail in all the country.
Early morning on our second day we will walk the trails here looking for Black-capped Pygmy-Tyrant, Great Curassow, Ornate Hawk-Eagle, Pied Puffbird, White-fronted Nunbird, Ocellated Antbird, Collared Forest-Falcon, Barred Forest-Falcon, Cinnamon Woodpecker, Chestnut-colored Woodpecker and Central American Pygmy-Owl. Great Green Macaw is likely to be a common sighting in this location. Other species we should find this morning include Cocoa Woodcreeper, Black-striped Woodcreeper, Red-capped Manakin, Black-headed Tody-Flycatcher, Band-backed Wren, Yellow-crowned Euphonia, Chestnut-headed Oropendola, Crimson-collared Tanager among others.
Lunch will be around 12:30 PM followed by a two-hour break as the afternoon cools.
The afternoon will be followed by a drive to a nearby location where our main targets will be Red-breasted Meadowlark, Nicaraguan Seed-Finch and Snowy Cotinga. Other species we should find this afternoon include Green Shrike-Vireo, Ruddy-breasted Seedeater, Black-headed Saltator, Tawny-crested Tanager, Rufous Mourner, Black-capped Pygmy-Tyrant and others. We will return to the hotel around 5:30 PM. After dark, we will try for Black-and-white Owl, Crested Owl and Spectacled Owl with dinner and a review of the bird checklist will occur around 7:30 PM.
Day 4-5: Northern Wetlands

After adding more species to our list in the early morning at the local feeders we will start our drive to the spectacular wetlands of Caño Negro, a unique system of wetlands in the far north that is maybe the best place in Central America to get all species of Kingfishers and many  water bird species.   We will have lunch on the road and get to this stunning place stopping a few miles before our destination to bird watch an open road that normally provides good chances for American Kestrel, Ruddy-breasted Seedeater, Nicaraguan Seed Finch and Red-breasted Blackbird and others.
The following morning we will meet at 5:45am in the hotel reception to go to an early boat safari at 6am followed by a late breakfast at 8:30am. We will look for secretive species like Agami Heron, Green-and-rufous Kingfisher, Green-, Amazon- and Ringed Kingfishers, Black-collared Hawk, Yellow-breasted Crake, Song Wren, Green Ibis and Glossy Ibis. Spectacled Caiman and many Green Iguanas are also a commonly encounter. After breakfast at 8:30am we will bird around the hotel until 11am when the heat of the day gets stronger. After a late lunch in town at a local restaurant we will departure for another location about 1 hour from the hotel called Medio Queso, this is a much more open wetland habitat with native rice growing here. Species like Nicaraguan Grackle, Fork-tailed Flycatcher, Spotted Rail, Least Bittern and the star of the place the elusive Pinnated Bittern, the tropical counterpart of the American Bittern, occur here. Our boat tour finishes at sunset before driving back to our accommodation while looking for Great Potoo, Pacific Screech Owl and Striped Owl on the road to Cano Negro. Dinner and the bird list will be around 8pm.
Day 6: Tenorio Volcano Area

Early birding in the gardens from 5:45am to 7:00am followed by breakfast and departure around 8:00am to Casitas Tenorio. This location in the Caribbean foothill rainforest is famous for two great hummingbird species, Snowcap and Black-crested Coquette, as well as the light blue coloured rivers and great gardens for bird watching. On route we'll stop at a small garden for Blue-throated Goldentail and Green Thorntail just to mention a few. After checking-in and lunch we will do roadside birding looking for Lovely Cotinga, Tody Motmot, Crimson-collared Tanager and others. Dinner is in a close by local restaurant in town at 6:30pm. We can have another try for Crested Owl tonight.
The next day we will have an early breakfast at around 6:00am then depart to our main birding reserve called Tapir Valley, located a 15 minutes' drive from our hotel. We will spend all morning on the trails here looking for among others Tody Motmot, Thick-billed Seed Finch, White-throated Crake, Lovely Cotinga, Emerald Tanager, Rufous-winged Tanager and Smoky-brown Woodpecker. Other species that occur here are Tody Motmot, Ornate Hawk Eagle, Yellow-eared Toucanet, Lovely Cotinga, Bare-necked Umbrellabird, Yellow-winged Tanager, Keel-billed Motmot, Great Curassow, Three-wattled Bellbird, Dull-mantled Antbirds, Lattive tailed Trogon, Brownhooded parrot, White collared manikin and Ruffous-winged Tanager. Lunch will be on-site and in middle of a flower garden so our chances to spot birds while having lunch will be greatly increased. The garden is the best habitat for the stunning Snowcap and Black-crested Coquette. After this lunch we will depart to our next location an hour's drive away, the Arenal Volcano.
Day 7-8: Arenal Volcano Area

Day 7-8. Arenal Volcano Area
We will spend the whole morning on La Peninsula Road, part of Arenal Volcano National Park, looking for Long-tailed Tyrant, White-fronted Nunbird, Keel-billed Motmot, White Hawk, Dull-mantled Antbird, Great Antshrike and Rufous-winged Woodpecker as well as Giant Cowbird, White-throated Magpie-Jay, Zone-tailed Hawk, Black Hawk-Eagle and Ornate Hawk-Eagle. Tougher birds of La Peninsula road include White-collared Manakin, Bare-crowned Antbird, Thicket Antpitta, Nightingale Wren and Black-throated Wren.
In the afternoon we will return to town to have lunch and a short break then head to the Bogarin Trails, which are close to town. These trails usually allow us to have good views of White-throated Crake and Uniform Crake. At the bird feeders at Bogarin we should also see Montezuma Oropendola, Buff-throated Saltator, Red-legged Honeycreeper, Crimson-collared Tanager, Passerini's race of Scarlet-rumped Tanager, Orange-chinned Parakeet and many others. The trails of this property usually produces Rufous-tailed Jacamar, Broad-billed and Keel-billed Motmot, Great Antshrike, Boat-billed Heron, Amazon Kingfisher and ocassionally the rare Agami Heron.
In the late afternoon, we will take some time to look for Striped Owl close to the hotel before going to dinner at a local restaurant.
Day 9-10. Central Pacific

Today we will drive after breakfast towards the Central Pacific and spend the rest of the day in vicinity of the hotel looking for the  Scarlet Macaw, Ferruginous Pygmy-Owl, Pearl Kite, Fiery-billed Aracari and Yellow-naped, White-fronted and Orange-fronted Parrots. The Pacific Screech-Owl and Black and White Owl should give us good views after dinner.
Early morning of the following day you will do a boat safari to get water birds including the Roseate Spoonbill, Southern Lapwing and Yellow-headed Caracara among many others.
Afterwards awe'll explore the lodge's entrance road looking for the Fiery-billed Aracari, Keel-billed Toucan and Slaty-tailed, Black-throated and Gartered Trogons.  Rufous-tailed Jacamar, Streak-chested Antpitta, Yellow-Billed Cotinga and White-whisked Puffbird inhabit this roadside forest too. Scarlet Macaw will be a major target all the time we spend in Central Pacific and the photographic opportunities are usually numerous.
On the afternoon of the second day we will visit the Carara National Park, one of the most famous hotspots of this location with a 400 species bird list. Great Tinamou, Streak-chested Antpitta, Golden-naped Woodpecker, Bicolored Antbird, Chestnut-backed Antbird, Spot-crowned Euphonia, Red-capped Manakin, Blue-crowned Manakin and Baird's Trogon are just some of the species that occur here. We will end the day at an ideal sunset site viewing common terns and gulls of the Pacific including Royal, Elegant Terns and Laughing Gull and Magnificent Frigatebird constantly cruising the skies.
Day 11-13. The mystic highlands of Talamanca

Arrive in afternoon at the hotel and then depending on weather spend some time at the hummingbird feeders or give it a try to our main target here, the Resplendent Quetzal in the afternoon. The guide will inform you what will be the most convenient activity based on the recent reports of the Quetzal behavior.
If we didn't succeed yesterday or if sightings were difficult we provide a second try today looking for a good photograph opportunity of the world-famous Resplendent Quetzal at a given site where it has been feeding lately. We will get to this feeding site in early morning and wait here until the bird gives us the perfect angle and picture.
Lunch will be back at the hotel the afternoon will be spent in the hotel gardens and restaurant for Hummingbird viewing or photography of the endemic Fiery-throated Hummingbird, Volcano Hummingbird, Magnificent Hummingbird and Lesser Violetear. This location can produce species like Golden-browed Chlorophonia, Black-thighed Grosbeak, Large-footed Finch, Yellow-thighed Finch, Slaty Flowerpiercer, Peg-billed Finch, Spangle-cheeked Tanager, Sooty-capped Bush-Tanager, Black Guan, Sulfur-winged Parakeet, White-throated Mountain-Gem, Black-faced Solitaire, Black-billed Nightingale-Thrush, Sooty Thrush and Long-tailed Silky Flycatcher.
The third day we will visit the Paramo. The highest ecosystem available in Costa Rica from where we will try to 2 of the most restricted endemics, the Volcano Junco and the Timberline Wren. Then we will go to Savegre Valley (including some of the best bird feeders in the valley) and after lunch in local restaurant at Savegre we will drive back to our hotel.
Bare-shanked Screech-Owl and Dusky Nightjar will be some of the endemics we will have a good chance to see on a night hike.
Day 14: Near to San Jose city

Early morning around the logde gardens to get our last chances at this great feeder and then transfer to Rio Perlas Resort. This is a great resort and the main reason to go is the amazing Sunbitterns that inhabit the lagoon near the restaurant. We will try to get the best views of the Sunbittern today and early tomorrow morning. Multiple other bird species are also possible from this location like Black-breasted Wood Quail and Hook-billed Kite.
Day 15: Morning birding and departure

Early morning birding of the hotel grounds and after breakfast continue to a different feeder in town where we will be likely to get close views of Lessons Motmot and Canivet's Emerald. We will pay a visit to Cachi Lake in the very picturesque town of Ujarras and give a try for the Costa Rican endemic Cabanis Ground Sparrow and also for Bat Falcon. Early lunch will be in a very open-air restaurant with banana feeders. After lunch we will depart to San Jose where our trip will end. We will transfer you to the airport for your afternoon or evening flight. Please inform us if you have an earlier departure today or if you need additional accommodation for a next day departure.
Rates
December to April and July and August are the drier months and good birding months for Costa Rica.
Please inquire for rates
Included: 14 nights' lodging, Transportation in a spacious Van, Specialized guide with Spotting Scope, Meals included in all hotels listed, Entrances/Activity Fees: Tarcoles Boat Safari, Carara National Park, Bogarin bird feeders, Sky Hanging Bridges, Caño Negro Boat safari, Medio Queso Boat Safari, 1 Resplendent Quetzal Photography hide in highlands of Costa Rica, Tapir Valley Reserve for Snowcap, Entrance to Batsu Outdoor Photo Studio in Savegre Valley
Excluded: Airfare and airport taxes, Items of personal use, Travel and Medical insurance Medical expenses, Additional tours offered in hotels (Spa, massage, etc.), Alcoholic beverages, Laundry, Souvenirs, Activities and options: King Vulture photography hide, Adolfo's Garden, Private Deck in Laguna del Lagarto Lodge.