SOUTH AFRICA: 14 Days Birding and Photogaphy - North-eastern South Africa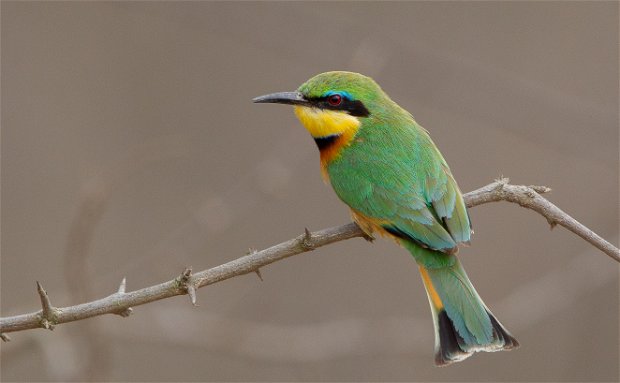 A "top-of-the-list" birding trip starting on the tropical KwaZulu-Natal coast and continuing northwards through Dlinza Forest, Hluhluwe-umfolozi Game Reserve, the Ismangaliso Wetland Park, Tembe Elephant Park bordering Mozambique, eastern Swaziland (Eswatini) and the world-renowned Kruger National Park with 350-400 possible species.
Gallery
Itinerary
Click on each day to see daily itinerary & target species
Day 1: Arrival: KwaZulu-Natal, Umhlanga

Our trip starts today in Durban, at the King Shaka International Airport where your guide will meet you at the start of your 14 day birding trip through the north-eastern part of South Africa. If time allow we will have a birding walk in the Umhlanga Nature Reserve looking for Black-throated Wattle-eye, shore birds and Giant Kingfisher.
Day 2 : KwaZulu-Natal, Eshowe

Before breakfast we will do a birding walk in the garden and surroundings. Our destination today is the town of Eshowe, a 1½ hour drive from Umhlanga. Eshowe is the oldest town of European settlement in Zululand. Eshowe's name is said to be inspired by the sound of wind blowing through the more than 4 km² of the indigenous Dlinza Forest, the most important and striking feature of the town.  Established in 1947, this 250 ha forest is uniquely situated within the urban environment of Eshowe. The Dlinza Forest historically provided a burial site for the Zulu dead during the Anglo-Zulu War in Eshowe. The forest is best known for its birds. Two species in particular, namely the Spotted Ground Thrush and Bronze-naped Pigeon, are sought after by birdwatchers in the forest. Numerous other beautiful species such as Green Coucal, Grey Cuckoo Shrike, Narina Trogon, Trumpeter Hornbill, Redbacked Mannikin and Green Twinspot are found in the forest.  Blue Duiker, a small antelope, can be seen scampering around the forest floor. On arrival we will visit a dam on the outskirts of town and hope to find Pygmy Goose or White-backed Duck among the Lily pads.
We will do a forest walk looking for Spotted Ground Thrush before spending time in the hide hoping for Green Twinspot, Red-backed Mannikin, Knysna Turaco, Lemon Dove or Chorister Robin-chat to show up. There aren't many restaurant choices in town and we will have dinner in a steak ranch type restaurant.
Day 3: KwaZulu-Natal, Eshowe to St. Lucia

To see the Bronze-naped Pigeon we will need to leave the guest house 15 minutes before sunrise to reach the aerial viewing platform at sunrise. This is the only time to see the pigeons as they sun themselves for a few minutes before flying off to feed. Depending on our time we can use the hide to catch any species missed on the first day. Breakfast is at 8:30pm at the guesthouse. Before leaving Eshowe we will make a quick stop at a dam to see if we have any luck finding Pygmy Goose, a small and colourful goose. En-route to St. Lucia we will have a quick stop at Mtunzini, hoping to catch a glimpse of a Palm-nut Vulture. 
It is a three hour drive to St. Lucia. We will have lunch before booking in at our accommodation which is situated on the banks of the estuary. St. Lucia is the hub from where to explore the Isimangaliso Wetland Park and we will start our stay here with a 2 hour hippo and croc boat trip which departs at 15:30. The estuary hosts high concentrations of both hippopotamus and Nile crocodile as well as an array of water birds. Dinner will be in town before we retire to our accommodation. A pod of hippos, named "the townies", grazes the grassy pavements, parks and gardens in town at night and it is not advised to walk around town after dark.
Day 4: KwaZulu-Natal, Hluhluwe-Imfolozi Game Reserve - St. Lucia

It is best to start any game drive as early as possible while the light is good for photography. We will leave at 5:30 and take packed breakfasts today. The drive to the park takes an hour. Hluhluwe-Imfolozi is one of South Africa's most popular game parks affording visitors fascinating wildlife encounters. The wide range of plant life in the park gives rise to a diversity of mammals, birdlife, reptiles and amphibians. The BIG FIVE - lion, rhino (back & white) elephant, buffalo and leopard are all to be seen in the park, as well as a variety of other species, including cheetah, wild dog and giraffe. It is also a good place to see nyala. When uncontrolled hunting brought many game species to the brink of local extinction, Hluhluwe and Imfolozi were set aside as protected areas for game in 1895. Through good conservation practices and the world famous project "Operation Rhino", the white rhino population was brought back from extinction in this park. Numbering less than 20 animals in 1900 they now number in excess of 10 000 worldwide. KZN Wildlife boasts one of the best conservation teams in the world, and enjoys international acclaim for its conservation efforts, not least in the Hluhluwe Imfolozi Park.
By noon we will turn back to St. Lucia where we will have lunch and a bit of a rest before a late afternoon forest walk on the Igwalgwala (turaco) trail. Livingston's Turaco, Purple-banded Sunbird, Woodward's Batis, Blue-mantled Flycatcher and Crowned Hornbill are some of the birds which are present in these coastal forests. Dinner will be in town.
Day 5: KwaZulu-Natal, Isimangaliso Wetland Park – St.Lucia

After breakfast we will head through town and into the wetland park for a morning drive. The iSimangaliso Wetland Park has 35 frog species (30% of the 116 species recorded in South Africa), more than 500 bird species, over 100 species of butterfly, more than 2 000 species of flowering plants and all five of South Africa's surviving Mangrove Tree species. Located inside the park is Lake St Lucia, Africa's largest estuarine system and home to 800 hippos and 1200 crocodiles. Flocks of pelicans and flamingos favour the expansive lake which makes for excellent birdwatching. iSimangaliso is home to 115 mammal species, many of which have been reintroduced in recent years, as they were absent due to hunting in the past. Game animals found within the safari park include; Savanna Elephant, Spotted Hyena, Brown Hyena, Wild Dog and around 800 Hippopotami. Antelope species found include Greater Kudu, Common Reedbuck, Bushbuck and Common Waterbuck, as well as a small population of Suni and Red Duiker which occur widely but are usually seen along the western shore. We will return to town for lunch and have some free time in the afternoon. A walk along the estuary mouth and boardwalk in the late afternoon may deliver on water bird sightings. Western Osprey and African Fish Eagle frequent this area. Dinner will be at the boat club restaurant from where it's possible to see Ragged-tooth sharks, crocodiles and hippos from your table!
Day 6-8: KwaZulu-Natal, Tembe Elephant Park

On our last morning in St. Lucia we will have a forest walk after breakfast before packing our bags for our trip to Tembe. It is a 3½ hour drive to Tembe and we will arrive in time for lunch. Tembe Elephant Park, a 300 square kilometer reserve, between Zululand and Mozambique, is home to Africa's largest elephants as well as the smallest antelope, the suni. The Big Five also find their home here – lion, leopard, black and white rhino and buffalo, as well as more than 340 bird species and myriad other animals and plants. Tembe Elephant Park is a paradise for bird-watchers, many are localised residents, others are endemic to South Africa and there are others that are tropical species at the southern limit of their range. The secret is the diverse habitat - scrub, sand forest and thornveld. There are lots of lifers to be found here: the rare Plain-backed Sunbird, the African Broadbill, Rudd's Apalis, Rufous-bellied Heron, Natal Nightjar, Southern Banded Snake-eagle and Black Coucal. The daily routine at Tembe starts with an early snack-breakfast before our first three hour game drive in an open safari vehicle. On return we will have a cooked breakfast followed by leisure time until lunch. We have the option to spend this time at a nearby hide overlooking a waterhole. The afternoon drive start mid-afternoon and last three hours ending back at camp in time for dinner.  On our last day we will follow the morning routine and game drive. Departure is after breakfast.
Day 9: Swaziland, Hlane Royal National Park

From Tembe we will drive west before turning north to the Swaziland border. We will cross the border at Lavumisa and head further north to Hlane Royal Game Reserve where we will arrive for a late lunch overlooking a waterhole frequent by rhinos and elephants. Birding will be done in on foot around camp. We will either spend our night in the park or a nearby guesthouse depending on availability of accommodation in this small park.
Day 10 to 13: Mpumalanga, Kruger National Park

We will pack and depart for the drive to the Swaziland/Mananga border post. The route will take us through long stretches of sugarcane fields. Sugar is one of Swaziland's main export products. After crossing the border back into South Africa we will head to the Kruger National Park. The Kruger National Park is one of the largest game reserves in Africa. It covers an area of 19,485 square kilometres (7,523 sq mi) in the provinces of Limpopo and Mpumalanga in north-eastern South Africa, and extends 360 kilometres (220 mi) from north to south and 65 kilometres (40 mi) from east to west. The administrative headquarters are in Skukuza. Areas of the park were first protected by the government of the South African Republic in 1898, and it became South Africa's first national park in 1926. To the west and south of the Kruger National Park are the two South African provinces of Limpopo and Mpumalanga. In the north is Zimbabwe, and to the east is Mozambique. It is now part of the Great Limpopo Trans-frontier Park, a peace park that links Kruger National Park with the Gonarezhou National Park in Zimbabwe, and with the Limpopo National Park in Mozambique. The park is part of the Kruger to Canyons Biosphere an area designated by the United Nations Educational, Scientific and Cultural Organization (UNESCO) as an International Man and Biosphere Reserve (the "Biosphere"). The park has nine main gates allowing entrance to the different camps. We will enter the park at Crocodile Bridge gate from where our morning drive will take us along the Sabie River to Skukuza Camp. Duration of game drives in the park depends on sightings and game viewing opportunities and we will take each day as nature directs. Our daily routine will consist of an early morning drive up to breakfast with a second morning drive until lunch. After lunch we will have some leisure time before our late afternoon drive. This will differ on days we change camps. A night-drive and a sunset-drive from camp with an open safari vehicle and ranger have been booked and we hope to see some nocturnal mammals and birds. (As all camp gates close at dusk and no guest are allowed to drive during night-time these drives are managed by park personnel and therefore we will have to share the vehicle with other guests.)
Day 14: Departure
Depending on your flight time we may have time for a last morning drive before your transfer to Nelspruit and the Kruger-Mpumalanga International Airport for your flight.
Rates
Please inquire for rates
Included: Accommodation, meals, transport in an air-conditioned minibus, activities, specialist guide, water in vehicle
Excluded: International and local flights, alcoholic beverages, guide tips, medical and travel insurance
Transport: air-conditioned minibus; open safari vehicle in Tembe Elephant Park; air-conditioned minibus in Kruger but open safari vehicle on both the night drive and sunset drive in Kruger
Guide: FGASA qualified specialist birding guide
Meals: three meals daily; all meals in reputable establishments; packed breakfast will be supplied for early morning visits to Hluhluwe Game Reserve and St. Lucia Wetland Park; please advise if any dietary requirements